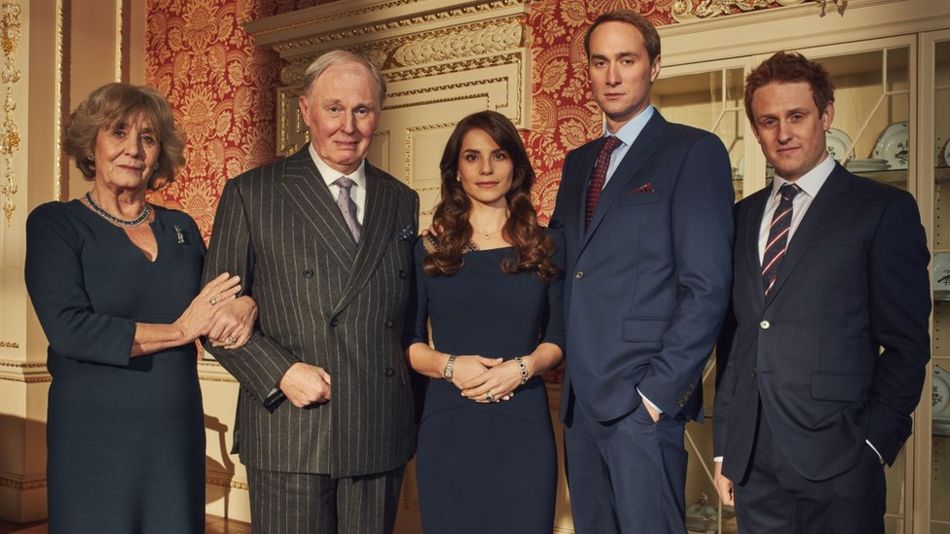 (no copyright infringement intended: images will be removed on request)
Notwithstanding Ken Loach's recent comments about historical drama on the BBC, with which I substantially associate myself:
http://www.bbc.co.uk/news/entertainment-arts-37679158
the Beeb does produce some stonking drama; and two gems I've seen lately tend towards the biographical; one retrospectively and one futuristically.  They are also royally linked; the subject of the first, 'Babs' being about a self-styled Windsor and the second, 'Charles III', featuring an actual member of that family.
I have never been a fan of Barbara Windsor.  You could argue that the construction of the dumb bombshell with the humungous bazoongas was a creation of male writers and directors, but it was one in which she was complicit.  Her 'Carry-On' persona so completely eclipsed her earlier acting talent that I was completely gobsmacked to find that she'd worked with Joan Littlewood.  You would think that Littlewood, a Communist in early years, would be anathema to the conventional and staunchly royalist Windsor; but work together they did.
http://www.bbc.co.uk/programmes/p02t02pl
Littlewood warns Windsor in this production that if she's not careful she'll play the dumb blonde for the rest of her life, a prophecy which came true – at least until Babs moved to EastEnders.
I liked this programme, in spite of it's following the 'Lady in the Van' convention of having two narrators: it showed a side of Windsor I would never have imagined.  But it was as nothing to the stupendousness of last night's 'Charles III,' an imagining of the first months of Charles' reign following the death of the Queen.
Tim Piggott-Smith plays Charles (Smith was shortly afterwards to die) in a tour de force.  But though the acting is superb, the success of this begins with the script.  With the great soliloquys written in iambic pentameter, it brings to mind every Shakespeare play that ever featured a monarch, and takes us back to the power-plays of Richard II and Henrys IV and V.
SPOILER ALERT: If you haven't seen this yet I strongly advise you to watch before reading on.
Charles is known nowadays to be proactive behind the scenes; this play sees him make some disastrous decisions in his first days by refusing to sign a bill which comes before him, thus precipitating an answer to the age-old question of where royal power resides.  The paradox has been sustained for generations; the Queen signing bills with which she almost certainly disagrees, being fully aware that not to do so would precipitate a constitutional crisis.  You have to pick your battles, and Charles' tragic flaw in this is that instead of waiting and discussing, he charges straight in like a bull at a gate, prompting the Prime Minister to call his bluff and enact the bill into law with or without royal assent.  The Machiavellian Leader of the Opposition advises the King to follow the example of William IV and dissolve Parliament: this he does, and the ensuing crisis is Charles' downfall.
What was most interesting was the role of Kate in this.  Bored by her portrayal as a smiling and supportive wife, she urges the indecisive William to take control and intervene.  Kate is the typical Shakespearian female malcontent, albeit with more possibilities open to her than a Tudor princess: and from the moment she persuades her husband to act, the writing is on the wall for Charles.  He becomes Lear; pathetic, outcast, bemoaning the treachery of his children and only giving way when they threaten to leave the palace and take his grandchildren with them.
Also interesting was a sub-plot centring on Harry's desire to be a commoner: he returns to the fold just in time for the coronation.
And this is how the play ends: with William being crowned in his father's stead, and stability being returned.  At the last minute Charles snatches the crown from the Archbishop, seeming to be about to put it on his own head.  Instead, in a touching gesture, he places it on William, murmuring 'my son.'
And there's even a Shakespearian ghost: Diana returns to speak to both widower and son, telling them both that they will be the greatest king ever: in a nice twist, it seems Charles will achieve this by abdicating.
I can't sing the praises of this enough: I'm going to watch it again in a few days.  I've only scratched the surface here.  I urge you to see it while you can:
http://www.bbc.co.uk/iplayer/episode/p04z0n7s/king-charles-iii
Kirk out